Britain on a Plate, the new recipe book for the TM5 from Thermomix UK has just been published.
I couldn't wait to read through my copy and now I feel really inspired to get cooking at the weekend.
We'd had shoulder of lamb last week and there were plenty of leftovers. The meat was still fairly pink and not overcooked, so I took all the meat from the bone, minced it for approximately 12 seconds on Speed 6 in my TM5 and had enough to try the Shepherd's Pie recipe on page 66. Why wait for the weekend?
As with all Thermomix recipes the instructions were really clear. Because I was using cooked meat mince I added extra stock to make sure there was plenty of liquid in the meat sauce. I added a grating of cheese to the potato before it went into the oven – so I had a lovely crunchy golden top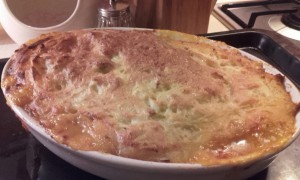 .
The Result: Supper fit for a King or rather a very hungry golfer! I made one large pie for two and then made mini pies to take to elderly relatives for lunch the next day – so I was very pleased to be able to use up my leftovers and produce such a tasty meal.
My only comment…I like my Shepherd's Pie with a really punchy tomato sauce so next time I would add more Tomato Puree – at least 50g for this amount of meat – but it's personal taste here. I also found I needed to mash the potato longer than stated, but that's no doubt due to the variety of potato I used. The pie was delicious.
My favourite cook books are those with pictures so that you can see what the end result should look like. The pictures in Britain on a Plate are gorgeous and as Mary Berry would say "Very Appetising". While there are recipes for all seasons, what I particularly like are the new bread recipes especially the muffins and crumpets, just in time for Autumn, the comfort foods such as savoury bread and butter pudding as well as a chocolate version and I can see there will be quite a lot of Scottish Tablet given away this Christmas.
If you'd like a Free copy of Britain on a Plate – it's our current host gift and Thank you for hosting a Thermomix demonstration* But as you'll probably know the host gifts change frequently so get your skates on. I'm taking bookings for October now. For more information give me a call on 07725 576472 or email me here
Helen Kendall-Tobias
Independent Thermomix Advisor and Team Builder
Kent, UK
*Current at time of Blog Post 18.09.2015/updated 02/10/2015