At any formal occasion a hat is still the order of the day. But which hat should you choose? Well it depends on which event you are attending and how formal you are expected to be. Here is the advice on Hats from some of the venues where hats are expected:
Royal Ascot
Village Enclosure: It's compulsory for women to wear a hat, headpiece or fascinator and smart dress.
Queen Anne Enclosure: Women must wear a headpiece or fascinator.
Royal Enclosure: Hats should be worn; a headpiece which has a base of 4 inches (10cm) or more in diameter is acceptable as an alternative to a hat. For men, a black or grey top hat.
Epsom
Queen's Stand on Investec Derby Day: Ladies must wear formal day dress, or a tailored trouser suit, with a hat or substantial fascinator.
Queen's Stand on Investec Ladies' Day: Ladies are asked to wear a fascinator or hat.
Henley
"Whilst not a requirement, it is customary for ladies to wear hats".
Le Prix de Diane, Chantilly France
The advice from Sophie Thalman, Présidente du Concours D'élégance: "Alors, Mesdames, cultivez l'élégance, prenez soin de chaque détail…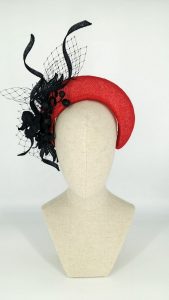 Et n'oubliez pas votre chapeau!"
Paraphrasing: Dress with care and attention to detail and don't forget your hat…
In the UK Philip Treacy is a well know milliner and regularly provides hats for the Royal Family and formal Royal Events. With the Duchess of Cambridge, Sophie Wessex, Zara Phillips and countless society girls wearing her designs, milliner Jane Taylor is also well-known in certain circles.
But if you're looking for a something a little different for your own special occasion whether it be a wedding or the races you could take a peek at the lovely designs "by Harriet"
Harriet can offer a bespoke design, made to order, following a consultation…as well as Bridal designs and an accessory service.
She has some top tips too, which may answer any fears and problems that you may have about wearing a hat.