Are you looking for an Imaginative zoom speaker for your next meeting? Are you trying to book a last minute programme slot?
COVID-19 Update: I am now taking bookings for 2022 to 2023 for in person Talks and Demonstrations, talks via zoom are still available.
Just to follow up from our thanks this afternoon. You were right to suggest that presentation. It was absolutely fascinating and so much information starting with sorting out my misconception about pearls. 

It  is such a shame you live so far away as it would be lovely to meet you and have a presentation in person. The lockdown has brought something good to our lives. Thank you again.  Barbara April 2021
and here is another testimonial
Thank you so much for the most fascinating and thought provoking talk. It was thoroughly enjoyed by all who attended tonight and the ladies were unanimous in their desire to invite you back to deliver it again in person so that you can see their pearls. Personally I was thrilled that so many of the girls wore their pearls and it generated much discussion surrounding the topic. I am just sorry that technological hiccups prevented you from seeing their pearls and the enthusiasm on their faces!

As we move forward cautiously with sorting dates in the hall for future meetings, I will be in touch to secure you for a 'live' delivery. Rachel July 2021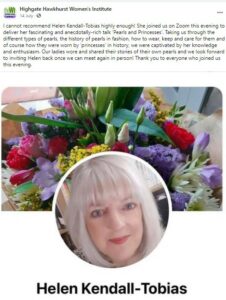 Helen, owner of Imagination Style Consultancy, has been speaking to audiences across Kent for over 15 years. She is a popular speaker and travels across the county to speak to audiences of differing sizes and age groups.
Here are just some of her most popular demonstrations for small-medium sized ladies groups:
50 Ways to Tie a Scarf
New! Winter Warmers: Styling Winter Scarves
NEW in 2021 50 More Ways to Tie a Scarf
Due to the popularity of my demonstration 50 ways to Tie a Scarf Helen has developed "Part 2" of this fascinating subject…

Talks for medium to large groups, presentations with beautiful imagery, certainly not boring powerpoint!
Wrinkles don't Matter
Pearls and Princesses ~ Helen is a Certified Pearl Specialist
Diamonds: A Girls Best Friend?
Colour and Fashion
What to Wear (and not to Wear) to a Wedding
The Making of a Style Icon
Please request a brochure for the full list of presentations and demonstrations and speaker fees and expenses or contact Imagination today to confirm availability – Helen is a popular speaker and her diary is already booking through to end 2023.
Approved speaker Womens Insitute – listed in East and West Kent Speaker Handbooks 
Also Inner Wheel, TWG, ABC, U3I and other social groups
To book Helen please call M: 07725 576472 or Email Helen