Read more

: TM5 Sausage Roll Recipe: Britain on a Plate
This week I've produced the best ever sausage rolls and a chicken and leek pie – both from the fabulous new cookbook from Thermomix UK: Britain on a Plate.
The sausage rolls were taken on a picnic on Sunday – and filled the gap between a massive brunch breakfast and our Sunday Roast Chicken evening meal…
They were tasty and delicious with a nice crisp pastry. Monday saw the leftover chicken made into a Chicken and Leek Pie – super tasty even though I used pre-cooked meat rather than uncooked as the recipes suggests. I can't wait for the Thermomix Recipe platform to launch – it's going to make menu planning so much easier…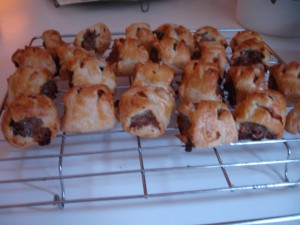 Sausage rolls are a favourite treat, especially at Christmas. So I was really pleased to find that they can be frozen and then cooked as needed. I'll certainly be making a double batch once I've cleared space in the freezer! Here's a picture of my efforts – sorry it's a bit blurred.
If you are a TM31 owner you could also do both these recipes in your Thermomix although the book has been specially written for the TM5. But here's the "bad" news – the cookbook is only available as a host gift at the moment. So if you want a free copy of the book in time for Xmas preparations please call me today to book a demonstration. Or perhpas you'd like to upgrade your Thermie – in time for Xmas…call me today.
Helen
PS Anyone booking a home demonstration before the 16th October will receive a Free Thermomix Jute bag – as a thank you from me! OFFER EXTENDED TO 10th NOVEMBER.
Helen Kendall-Tobias
Independent Thermomix Advisor and Team Builder
M: 07725 576472
E: helen@imaginationonline.info