*** THERMOMIX CUSTOMER OFFER: AUGUST 2021***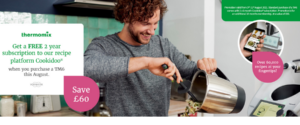 We are excited to announce this months customer offer – receive 24 months subscription with every Thermomix TM6 purchased in August 2021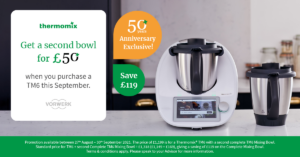 Or…you might choose to buy a Thermomix TM6 and a second bowl for just £50 (Total price £1199) Our Bank Holiday Special Offer.
Please call me to arrange a virtual or Face to Face demonstration of the Thermomix TM6 and also see the TM Friend in action.
During the Covid-19 crisis we are offering virtual demonstrations and support for new customers by phone email and social media. Call me on 07725 576472 to arrange a virtual demonstration.
This Customer Offer is available through Independent Thermomix Advisors only.
I am an Independent Thermomix Advisor and Team Leader based in Kent.
Please quote Advisor ID 8000000230
"THERMOMIX® " is a registered trademark of Vorwerk. Vorwerk does not support, authorise or endorse this site. Official Thermomix UK Website.