*** THERMOMIX CUSTOMER OFFER: January 2022***
I am excited to announce this months customer offer: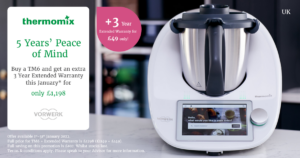 This month we are offering the option to buy an extra 3 years Extended Warranty with your Thermomix TM6 for just £49, saving you £100. (An extended warranty is usually priced at £149.)
The offer consists of:
Thermomix TM6 and all it's accessories and the Simple Ideas Cookbook 
3-year additional warranty (Total Warranty of 5 years)
But, you don't have to take advantage of this offer, you can still buy a Thermomix TM6 for £1149.
Please call me to arrange a virtual or Face to Face demonstration of the Thermomix TM6 and also see the TM Friend in action. 
During the Covid-19 pandemic we are offering virtual demonstrations and support for new customers by phone email and social media. Call me on 07725 576472 to arrange your virtual demonstration. 
I am an Independent Thermomix Advisor and Team Leader based in Kent. Please quote Advisor ID 8000000230
"THERMOMIX® " is a registered trademark of Vorwerk. Vorwerk does not support, authorise or endorse this site. Official Thermomix UK Website. 
Page Updated January 2022