I'd like to introduce you to THERMOMIX TM6: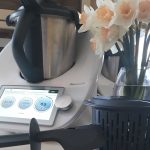 THE WORLD'S SMALLEST SMARTEST DIGITAL KITCHEN
The intelligent kitchen appliance that also weighs, cooks and steams
Creates fast, easy, healthy, creative and economical meals in minutes
Combines more than 20 kitchen appliances into one easy to clean, compact unit
Is an extra pair of hands in the kitchen
With German engineering, the award-winning Thermomix® TM6 is a multi-functional kitchen machine that is robust and easy-to-use.
Including…the Cookidoo Platform with thousands of recipes and inspiration, weekly planners, shopping list and links to supermarket trolley.
Thermomix® cooks soups, sauces, curries and risotto from start to finish. It can make pastry in 6 seconds, coleslaw in 10 seconds and pancake batter in 30 seconds. Thermomix cooks jams and chutneys effortlessly, grinds fresh horseradish, chops onions in seconds, blends nut butters and simmers a bowl of chilli. Thermomix steams fish, meat, rice, vegetables and puddings to perfection.
FUNCTIONS: Turbo, Dough, Scales, Sous vide, Frmentation, Slow cooker, Kettle modes and Rice Cooker and Thickening Modes (December 2019) and Egg Boiler and Warm up mode (Autumn 2020) yes it's getting better all the time, with automatic updates…
This is the perfect tool for your kitchen if:
You want to create wholesome food from scratch for your family (so you know exactly what they are eating)
You have food sensitivities so can only eat certain foods, avoiding others
You want to eat a diet rich in fresh fruits and vegetables
and don't want to spend hours doing it
You want to make time for other things AND enjoy delicious, nutritious, home-cooked food.
But here's the thing…to really appreciate Thermomix® you just have to see it in action. So as an Independent Advisor for THERMOMIX, I'd like to offer to demonstrate the THERMOMIX TM6 to you.
You can see a demonstration in your own kitchen – completely without obligation, by following these few simple steps:
Arrange a date/time for your demonstration with me, Helen. I am an Independent Thermomix Advisor based in Kent. Phone 07725 576472 or hop over to my Facebook Page and see my availability
Invite three friends to come along too or see it on your own if you'd prefer
I'll set up a virtual demonstration on Zoom and send you the link to join me in my kitchen.
AND, when you invite three friends to see a demonstration with you (households new to Thermomix) you can earn one of our fantastic host gifts absolutely free….our way of saying thank you.
I'm now taking bookings for April, May and June 2021 – so please phone me today to ensure you get your preferred date and time. BOOK A DEMONSTRATION TODAY!
I am an Independent Thermomix Advisor and Team Leader for Thermomix® UK.
Demonstrations are completely without obligation.
Email me for more information and to book a demonstration or phone me on 07725 576472
Thermomix Independent Advisor No: 8 000 000 230
"THERMOMIX® " is a registered trademark of Vorwerk. Vorwerk does not support, authorise or endorse this site.