Unless you've seen a Thermomix® in action you'll just think it's all hype and you won't be interested in How to buy a Thermomix!
You won't be interested to know that one kitchen appliance can do the job of more than 20 kitchen gadgets. So if you are wondering whether the hype and all the great reviews are true, and are maybe thinking its time to buy a Thermomix – you should really see a Cooking Experience.
A Thermomix Cooking Experience is your opportunity not only to see it in action but also to use the Thermomix and ask as many questions as you can think of.
You can host your own Cooking Experience on a day to suit you, ask three friends (friends often come up with questions that you may not have thought of) and I'll turn up with my Thermomix® TM6 or meet you on a Zoom call.
It takes under 90 minutes and we cook three recipes together such as Fresh Cheese Scones, Soup and Fresh Fruit Sorbet. These recipes show you many of the functions of the Thermomix and the guided cooking. But we have a selection of recipes for you to choose from.
And I leave you with the food and you can share it with your friends for lunch or supper or taste the food and then eat it with your family later.
You'll learn how to use the Thermomix and also have great fun! These cooking experiences are completely without obligation.
As an Independent Thermomix Advisor I keep in contact with all my customers and help and support you long after you have taken delivery of your Thermomix. Please contact me helen@imaginationonline.info to find out more
PS This is what I got rid of when my Thermomix arrived!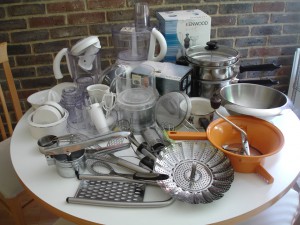 "THERMOMIX® " is a registered trademark of Vorwerk. Vorwerk does not support, authorise or endorse this site. Official Thermomix UK Website.