As part of the Thermomix 5 Star Service a Thermomix Advisor will help you to understand how the Thermomix works in a way that is much quicker and more fun than reading an instruction manual. We don't just sell you a Thermomix and then forget you.
Our role is to demonstrate and show you how to get the best of your Thermomix. We are here to answer your questions, give you inspiration and of course ensure that you receive the Thermomix customer newsletter and invitations to our Cooking Classes. (We are planning a whole series of great classes…)
Things have been a bit different in the last 2 years – and much of our work has been done on Zoom calls. But we are now getting back to normal and providing face to face cooking experiences. (You can still book a virtual demo if you'd prefer.) You can have as many demonstrations as you like – there is always something new to learn. You can also receive a fabulous host gift when you invite three of your friends to join you.
But it's also possible that you've "lost" your original Advisor. For various reasons our Advisors stop demonstrating perhaps because they move away from the area. If you have found yourself without an advisor then you are welcome to call me with any questions you may have. Perhaps you'd like a refresher on how to use the varoma…or you'd like to know more about some of the new modes…
I am a Thermomix Team Leader with a team of advisors in Kent, UK. So if you've found yourself without an advisor, for whatever reason (perhaps you've recently moved to Kent) then don't hesitate to get in touch with me.
If you love your Thermomix and are always talking about it to friends – have you considered becoming an Advisor? I am actively looking for new Advisors to train in the next few months. If you'd like to know more, just call me, Helen on 07725 576472 and I can give you more information.
Here's what one of my customers said recently: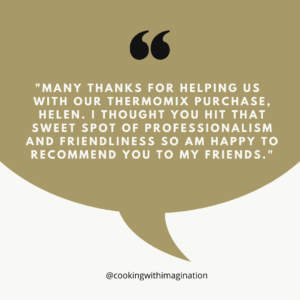 Updated March 2022