From October 5, all large supermarkets will charge 5p per bag.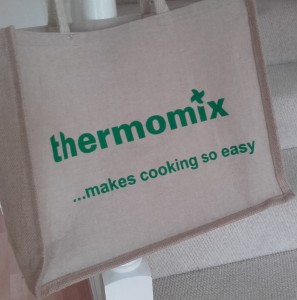 It's a new law requiring all large shops in England to charge 5p bag tax for all single-use plastic carrier bags and it starts October 5, 2015. It's mainly supermarkets (ones with more than 250 or more full time staff) that are affected by the law, but corner shops could follow with a charge in future. So to avoid this new charge you'll need to take your own bags from home or use re-usable bags.
I'm not going to go into the exemptions – because they are pretty boring – it's safest just to have your own bags with you when you shop.
And so with this in mind and as a way to help, I'm offering a fabulous Thermomix Jute Shopping Bag as a gift for everyone booking a Thermomix demonstration before October 5th and who's demonstration is held within 30 days.
What are you waiting for?
Call me, Helen Independent Thermomix Advisor and Team Builder on 07725 57 64 72 and claim your free gift.
Please note this is a personal gift from me – you'll still get a host gift worth up to £40 when you host a Thermomix demonstration with 3 guests new to Thermomix.