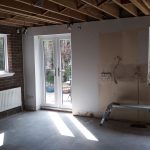 In less than 7 hours my kitchen disappeared in front of my eyes (including the ceiling)
I am left with my Thermomix and a microwave for family meals for the next 4 weeks.
So I have decided to walk the walk. I will be blogging regularly to let you know which recipes I am preparing in my Thermomix TM5 for our supper each night. The Thermomix replaces 12 other Cooking appliances – so I'm going to test it to the max and list what I prepare each day…then if you find yourself in a similar situation you'll have a list of recipes to go to for speed…
Wish me luck! This is my laundry where all our meals will be prepared in the next few weeks…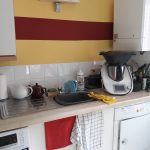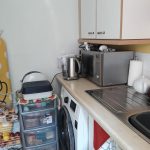 Day 1: Simple meal this evening as it's be a long and noisy day. Cold chicken from Sunday Roast, Jacket Potato and Coleslaw…its the TM5 Basic Cookbook recipe but made with celeriac, apple and a few nuts with Mayo, made in the TM5 of course.
Day 2: Now we are without heating so to warm us up a bit (thank goodness its not winter) I'm cooking butter chicken with rice. I also discovered that it's useful to have something to warm plates on and a thermal container to keep things warm. After a nice hot meal we both felt that we could probably cope for the next 4 weeks.
Day 3: Because we are low on storage I wanted to use up some of our store cupboard ingredients. So today I searched on Cookidoo and came up with #TunaPasta #madeimythermomix. This is a delicious recipe with olives and capers to give it extra taste. The recipe says it can be eaten hot or cold – which I can't quite imagine. We had it hot with lashings of parmesan – and really enjoyed it. so much so that I forgot to take a picture!
Day 4: The electrician arrived today to put in the wiring for the new kitchen. Long story short we lost part of the laundry ceiling and electricity was off for much of the day…hot drinks updstairs only. It was great that we had left over butter chicken from Tuesday – so we ate that, this time with Naan bread and mango chutney – the recipe is from the TM5 Basic Cookbook and the chutney is a favourite. Particularly good when you can make it from frozen mango chunks which are about £2 a 500g pack in the supermarkets.
Day 5: We've been asked out to supper…but I know that there is a Thermomix in the house we are going to. We are promised a Sri-Lankan Curry Feast with Chicken Curry, Beetroot Curry, Spinach and Coconut Dahl, Poppadums and Rice…catch up with me tomorrow when hopefully I will have some splendid pictures of our "Feast". More pictures https://www.facebook.com/thermomixcookingkent/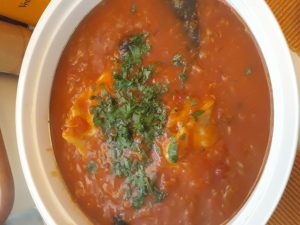 Day 6: It's the weekend, and we've spent a few hours re-arranging boxes and sorting out the little space we have for cooking and eating. Today, it's Chicken Basque served with Pasta – all prepared in the TM. Followed by a steamed Eve's pudding. Apples poached in TM with sponge and fresh custard made in the TM but sponge cooked in microwave while making the custard. Picture doesn't do it justice, but was very tasty and we have some left for Sunday.
Day 7: Sunday, we've had quite a lot of chicken this week so I've swapped around my planner and moved chicken stuffed with Cranberry and green beans with Jersey Royals with Steamed Turbot and Vegetable Parcels. I've got some white fish in the freezer which will do instead of Turbot and I may add a few prawns as well.
Day 8: Bank Holiday Monday – thank goodness I made the full recipe of the Chicken Basque – tasted even better warmed up a second time.
Day 9:
Day 10: Chaos as new floor being laid, very wet and cold in the house…jumped ship and went out for a burger and chips!
Day 11: It was going to be mushroom risotto tonight, but we both settled on "Mac N Cheese" with extra ham. I've already Boiled some eggs in the TM for extra protein and Bechamel is a cinch in the Thermomix. Will also cook the macaroni in the TM and try and brown the cheesy top in the Microwave which apparently has a grill function. Otherwise, I'll get the blow torch out…if I can find it!